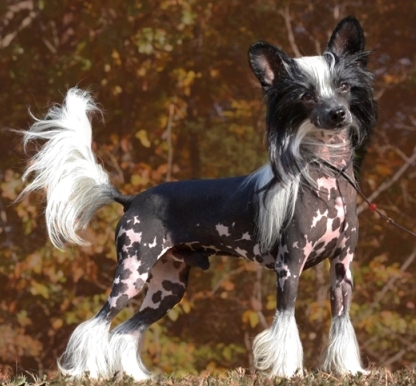 Welcome to Belews Chinese Cresteds home of Michael and DeLisa Parker. We are located on beautiful Belews Creek Lake in North Carolina. Our goal at Belews Chinese Cresteds is to produce happy, healthy Chinese Cresteds that are competitive in both the show ring and performance events and serve as loving companions.

We do not breed frequently so when we do breed, we strive to produce the best litters possible by carefully selecting parents that have been tested for genetic health problems, have excellent conformation, sound movement and great temperaments.

Our puppies are well socialized and raised in our home as one of our own. We are dedicated to the breed and we love to show. We are members of the American Chinese Crested Club and we have been recognized as an AKC Breeder of Merit. We received the Evelyn Dickerson Good Sportsmanship Award from the American Chinese Crested Club. Michael serves as the Treasurer for the Tar Heel Chinese Crested Club and DeLisa is the American Chinese Crested Club's website administrator and board member.

We hope you enjoy visiting our site. Please feel free to contact us anytime. We welcome all inquiries.